My name is Simona Damian, owner of Parmen Auriu Kennel. We are located in Snagov, Romania (Bucharest suburbs).
We are specialised in breeding top quality English Cream Golden Retrievers with excellent bloodlines, temperament and construction. We provide beautiful "Platinum Blonde", "Ultra Light" and also the typical "Light Gold" color English Cream Golden Retrievesr and we have a great commitment and passion to breed and raise top quality bloodlines since 2001.
Everything started in 2001 when I bought my first English Cream Golden Retriever female named Cara. My dream came true and since then my life has changed into a good way and I realised I can´t live without a Golden Retriever.
After 20 years of breeding, I now own 28 beautiful English Cream Golden Retrievers, some are imported from top kennels in the World and the others were born in my kennel. All these years my wish and goal was to improve the quality of the breed and to provide beautiful and healthy puppies, making other´s people life happy and fulfill.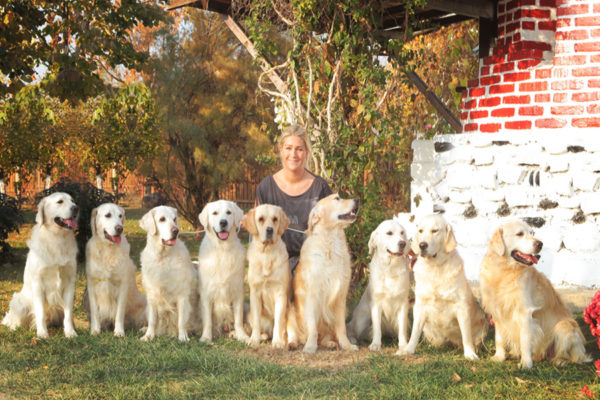 All our Golden Retrievers live in our home environment, they are used both inside and outside and we don´t keep our dogs in kennels. Our house and kennel are located on a 10000 square meter property where we live with our dogs, cats and horses. The puppies are born in our home environment, live inside with us until 6 weeks old and as soon as they are ready to explore the outside world, we let them play and run in the "puppy yard".
The puppies are ready to go to their forever homes begining with 10 weeks old, with 3 vaccinations, 4 internal dewormings, microchip and pedigree/"family tree". All our adult dogs are tested for genetic diseases before starting breeding them, such as hips, elbows, eyes, heart and ICT. We choose only physically and mentally sound dogs in order to produce well ballanced and happy English Cream Golden Retrievers.
Our puppies and adult dogs are raised in an environment where they are loved, individually socialised and introduced to play training, recall retrievering and swimming.
We pride ourselves as breeders of top quality, healthy, intelligent and temperament tested English Cream Golden Retrievers also known as White Retrievers, British Cream Retrievers or European Cream Golden Retrievers with full breeding rights and full registration. We also provide shipping for our international customers and we work with best airlines that help us ship Worldwide puppies and adult dogs in excellent conditions. We have placed our puppies and adult dogs during years in USA, Canada, France, Italy, Belgium, Austria, Germany, Portugal, Serbia, Turkey, Kuwait. Sometimes we have litters born in USA. For more information don´t hesitate to contact me.
We are also members of the International All Breed Canine Association USA and we are proud to say that some of our English Cream Golden Retrievers were awarded with great titles such as USA Champion and International Champion of Beauty.
We are also happy to offer references from our int´l customers and you are welcome to visit us and meet our lovely English Cream Golden Retrievers.
BREED STANDARD
The English type Golden Retrievers are known for their extraordinary black pigment and round dark eyes as well as light cream color. This combination with coat colors which range from cream to light gold is stunning.
They tipically have a lovely head piece described as blocky, a wide skull and thick muzzle, well angulated shoulders and rears. Most importantly, they posses a true golden temperament, very laid-back and gentle.
We welcome you to visit our website and meet our English Cream Golden Retrievers.